MORE FROM THIS COLLECTION

Outlook for air freight positive, driven by modal shift from ocean
Disruptions in container shipping and the shrinking cost differential between air and ocean are contributing to a strong, positive air freight outlook.
Disruptions in container shipping and the shrinking cost differential between air and ocean are contributing to a strong, positive air freight outlook.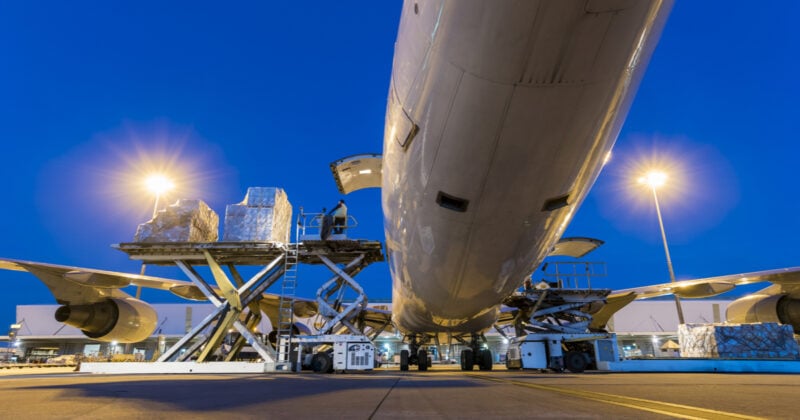 The surge in ocean spot prices has resulted in many shippers switching from ocean to air cargo to move goods that are otherwise hampered by disruptions in the ocean supply chain.
A consequence is that the price of air cargo, relative to that of container shipping, has fallen significantly, even if air transport has not been exempted from its own disruptions. Per kilogram of chargeable weight, air cargo was more than 12 times more expensive than ocean shipping prior to the crisis, but this has fallen to a ratio of six in May 2021 — adding to the competitive advantage of air cargo.
Freight rates on the major trans-Pacific and Asia-Europe lanes in late June remained at far higher levels than during the last pre-Covid 'normal' peak season at the end of 2019.
While sequential airfreight rates have generally cooled since early May, they remain exceptionally high, especially on U.S.-bound lanes, according to Bruce Chan, vice president and senior research analyst, Global Logistics and Future Mobility, at U.S.-based investment bank and financial services company, Stifel.
Rates on many trade lanes have been higher this year than they were during the price surge when the world went into lockdowns in the second quarter last year — global passenger traffic ground to a halt and the race for personal protective equipment (PPE) and other healthcare equipment saw demand for space surge.
Chan noted that on the Hong Kong-North America lane, for example, rates had been positive in terms of year-over-year growth in every week of 2021 in the year through May. "Frankfurt-North America shows a similar story, with year-over year increases in almost every week this year," he added.
Capacity continues to remain severely affected by the partial shutdown of the travel industry. "Slower-than-expected vaccine rollouts and new strains of Covid-19 are prolonging global travel restrictions, further limiting the return to market of short and long haul passenger bellyhold flights," said Thomas Mack, Global Head, Air Freight, DHL Global Forwarding.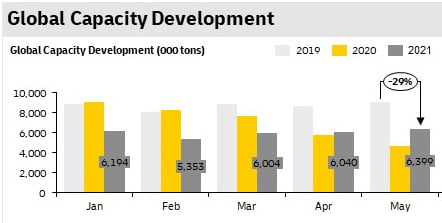 Capacity was down 29 percent compared to May 2019, with passenger capacity running 43 percent lower year-on-year, as highlighted in DHL's latest Air Freight State of the Industry.
Air freight preferred over ocean freight
On the flipside, demand has remained strong. In both the U.S. and Europe, inventories remain low while the expected shift to service consumption has not really dimmed the fervour of consumers for more products.
"The demand surge is now spread across various sectors from high-tech to perishables. With container shipping services still struggling to cope with demand and aftershocks from the disruptions at the port of Yantian in China due to a Covid-19 outbreak, there is little chance of retailers and manufacturers being able to fully restock diminished inventories anytime soon," said Kelvin Leung, CEO, DHL Global Forwarding Asia Pacific.
Surging ocean spot prices and ongoing port congestion, including at Rotterdam and Hamburg and a string of U.S. hubs, are also adding to demand for air cargo from shippers moving products with modal crossover potential.
According to the latest DHL report, the Covid-driven e-commerce boom has increased the diversion of ocean-only cargo to air, while increased purchases have put automobile inventories at record lows which again contribute to higher demand.
Industrial goods, building materials, semiconductors and electronics equipment are in short supply in the U.S. due to breakdowns and delays in the supply chain, shared Chan.
Normal channels of distribution are facing severe backlogs, and customers with high value or time sensitive goods are struggling to find options such as using tertiary ocean ports, creative inventory management, or paying for faster modes or services.
"Traditionally, there hasn't been too much fungibility between ocean and air service, in our view, given the significant cost differential, but desperate times call for desperate measures, and ocean isn't exactly cheap right now either," explained Chan.
Mack believes the outlook for air cargo remains positive. "We're seeing strong demand across the board, and rates remain relatively high with upside potential as there is some modal shift in Asia following Covid-19 infections at the port of Yantian and the ripple impact this is having on hinterland logistics and shipping schedules," he said.
"The disruptions affected more cargo and port rotations than the closure of the Suez Canal in March, so we expect this to fuel air cargo demand which continues to be healthy, especially into the U.S. Air freight is providing a speedy and reliable option to customers to prevent stock outs, and to serve their customers facing supply chain disruptions."
Added Leung: "With Eurozone business activity growing at its fastest rate in 15 years in June and business confidence increasing ahead of the removal of lockdowns, the current macroeconomic environment, and the persistent struggles with ocean freight, are driving shippers' preference for air freight right now."