How cold chain logistics is helping to make food and pharma more sustainable
In the face of rapid urbanization and global threats, developments in cold chain logistics can help balance growth and sustainability.
In the face of rapid urbanization and global threats, developments in cold chain logistics can help balance growth and sustainability.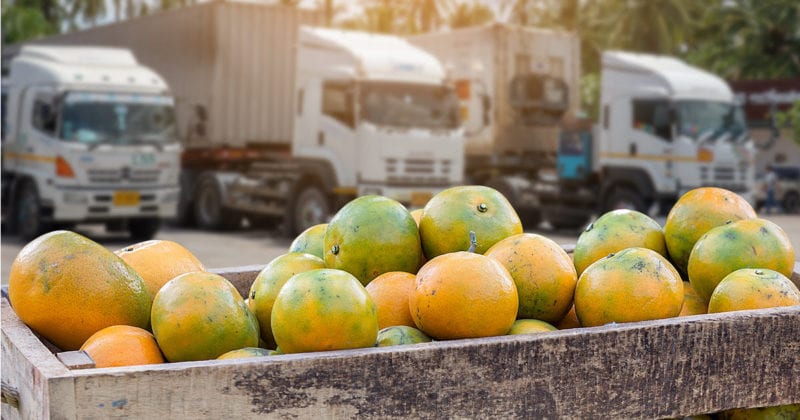 As countries the world over struggle with threats including political and social instability and Covid-19, innovation and collaboration for sustainable development have never been more critical. Global trade networks supported by sprawling supply chains are key to the well-being of communities worldwide, as they ensure the reliable distribution of vital resources like food, medicines and infrastructure.
Due to the time and temperature-sensitive nature of many of these goods, cold-chain logistics plays a significant role in ensuring their safe and cost-efficient transportation. Of the many industries that benefit from developments in cold-chain logistics, food and life sciences are among the most vital. Here's why.
Protecting produce and reducing food waste from farm to fork
In India, 190 million people go hungry every day, despite the country producing enough food to feed its population. Food wastage amounting to US$14 billion (€12.47 billion) was stated as a key contributing factor, as crops are left to rot in the sun, or become infested with pests without proper storage and transportation.
Globally, about a third of food produced each year for human consumption is lost or wasted. Yet, the number affected by world hunger is set to surpass 840 million by 2030. The Covid-19 pandemic risks further disruption to agricultural supply chains, threatening the livelihoods of some of the world's poorest nations. Market and movement restrictions resulted in many farmers being unable to cultivate, sell produce, or procure seeds and supplies.
Governments and industry players have been called upon to address the waste-hunger paradox. India's SAMPADA scheme aims to support the agricultural industry with comprehensive infrastructure to store, process and transport food. A critical component of the scheme is an integrated cold chain to reduce post-harvest food waste and ensure the quality of produce from farm to table.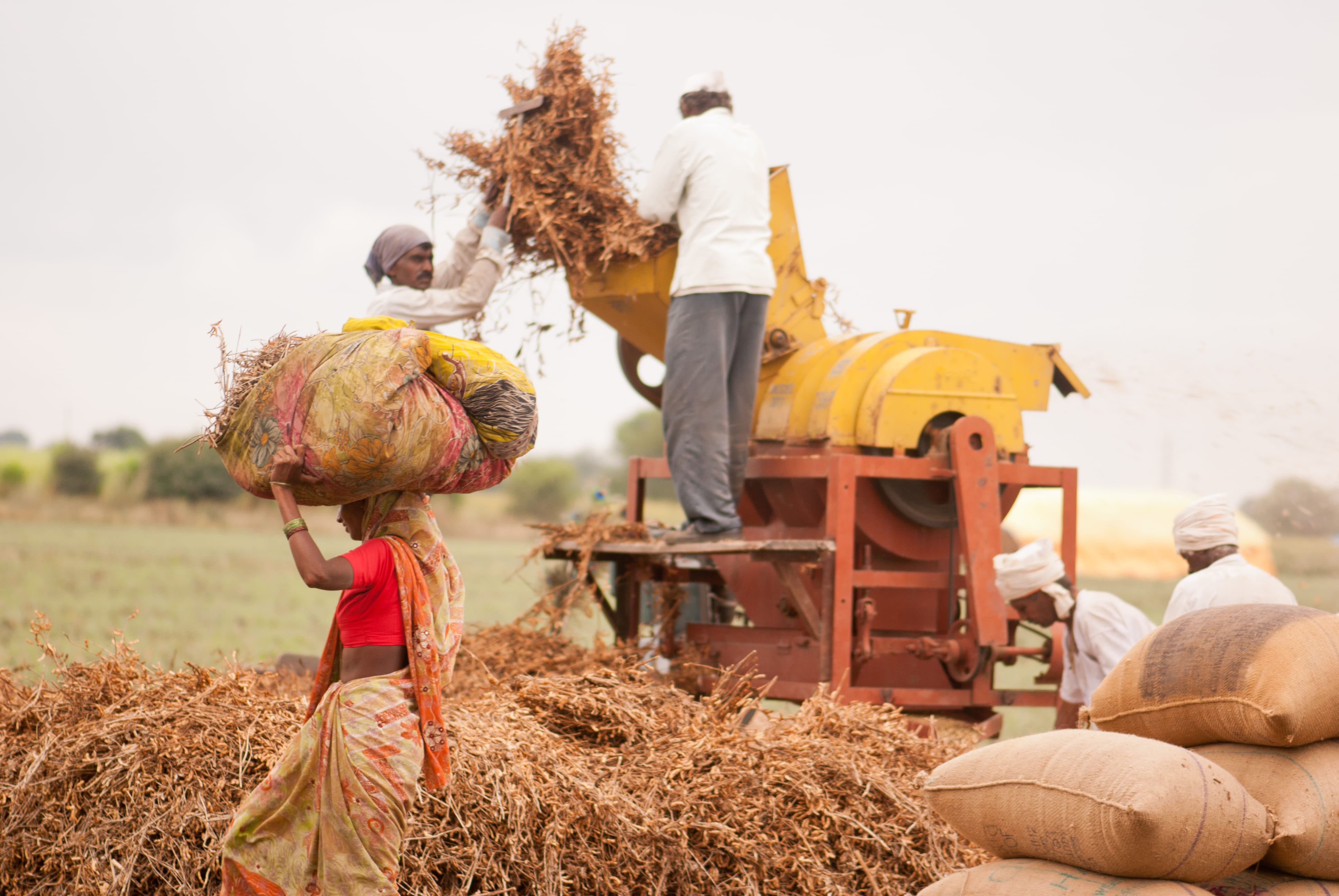 Logistics players add value to the local ecosystem through innovation and big data analytics. DHL SmarTrucking's temperature-controlled road freight solutions help India's food producers keep their produce fresh, while leveraging data-driven insights for route optimization.
"A reliable cold chain solution that transports (our produce) at the optimal temperature enables us to reduce wastage and decrease our dependence on imports," said Vipan Sharda, a Proprietor at JVS, a Chandigarh-based, family-owned apple trading company.
He added: "DHL SmarTrucking is not only helping us achieve that, they are also helping us reduce transit times and improve our business performance. For example, it now takes four to five days, instead of the previous seven days' delivery time, for our produce to reach South India."
Feeding a hungry world with ocean reefer logistics
Transporting food overseas to feed global demand is even trickier business. Refrigerated containers, also known as reefer containers, are crucial to extend the shelf life and maintain the integrity of produce. Air cooled to pre-set temperatures is circulated around specially packaged cargo to control temperature, humidity and ventilation.
"Reefer shipping is a growing activity globally, driving a continued interest and investment by most carriers. Food, in particular, has seen the biggest growth among all industries at an increase of about 4% globally versus an overall reduction of 5% in ocean shipping," said Timo Blok, Head of Reefer and Flexitanks at DHL Global Forwarding Asia Pacific.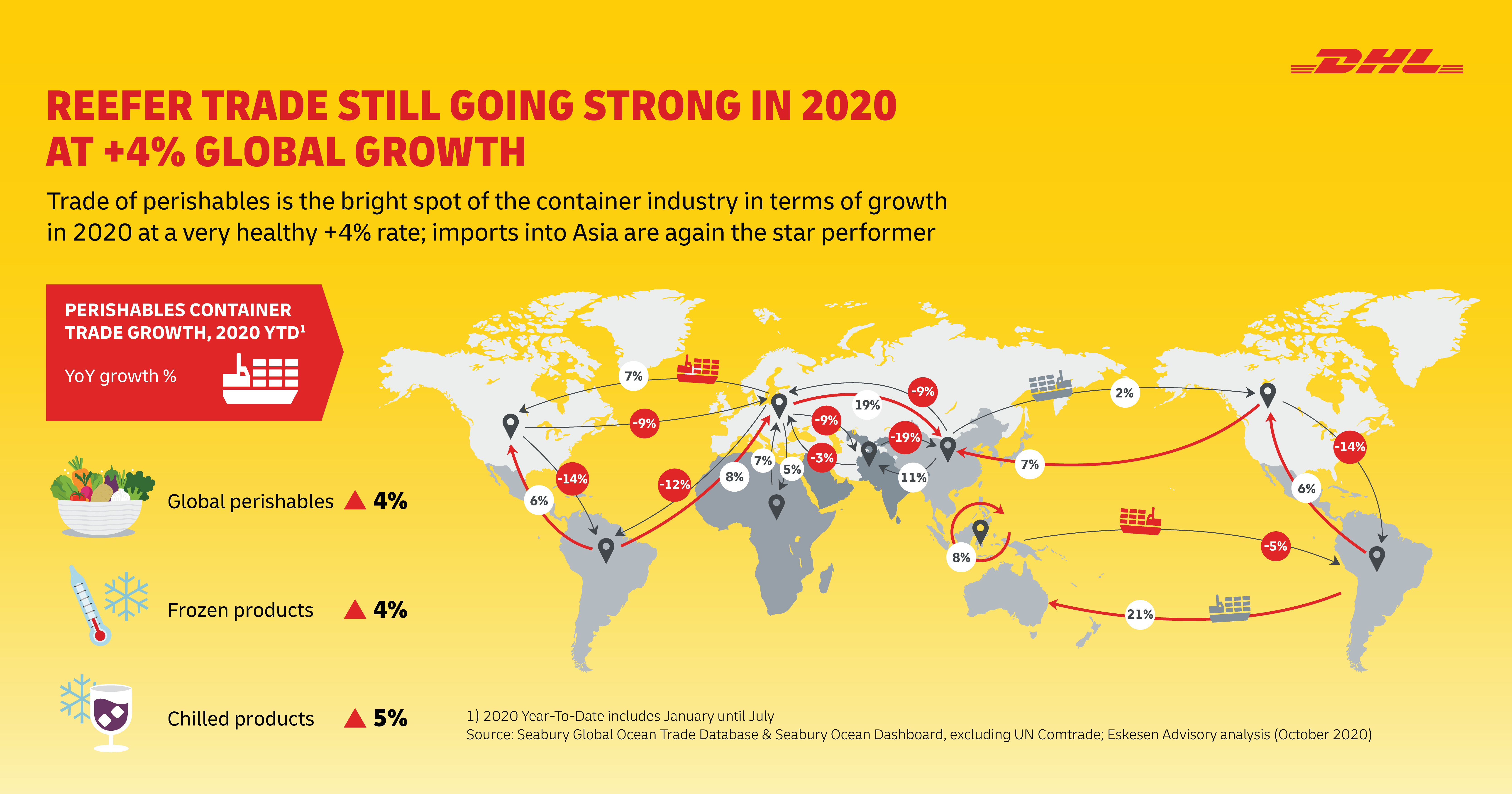 "We optimize our reefer routes and keep food at its best by loading produce fresh from the harvest," he added. This way, self-contained refrigerated units render extra loading and unloading, and the need to build additional cold storage facilities, unnecessary.
"Reefer, particularly for perishables, is a niche market in which not all freight forwarders have the required setup and expertise. There has been a focus on key countries to set up knowledgeable teams who know markets, customers, and how to handle cargo," said Blok.
"DHL has a strong value proposition with a compliant, global logistics network that can offer end-to-end visibility and even opportunities to access new markets. Our first step was to establish strong teams in the LATAM market with its massive fruit and meat exports. Today, we have dedicated teams also serving smaller, high-growth countries that were previously not on the radar, such as Indonesia and Vietnam in the Asia-Pacific region."
Game-changing innovations to connect healthcare to those in need
Temperature-controlled logistics solutions are crucial to another important industry — one that plays a central role in a yet out of reach global goal — healthcare.
Rising costs, brand reputation and a shift towards transporting more structurally complex drugs are raising the stakes for proper handling and distribution of pharmaceutical products. The industry is also gearing up for a momentous challenge — the production and distribution of a Covid-19 vaccine.
In this whitepaper, nearly half of life sciences and healthcare companies surveyed indicated that the ability to maintain an effective temperature-controlled chain for their products is a major issue. This is particularly so as manufacturers rapidly expand into emerging markets.
Vaccines, for example, require strict temperature controls to ensure their efficacy. While they can potentially save hundreds of thousands of lives each year, immunization programs have historically been constrained by outdated supply chains, especially in remote areas where they are needed most.
The pressure is on for logistics and industry players including manufacturers, governments and NGOs to improve their capabilities in supporting the life sciences industry. Recently, DHL Global Forwarding, the group's air and ocean freight specialists, announced a series of technology enhancements for this sector. These include enhanced risk modeling, an expanded lane risk assessment tool and digitized SOP (standard operating procedure) documentation.
"We are committed to continuous improvements in technology, tailored to our customers' evolving needs," said Blok. "In 2016, we launched Ocean Thermonet, a fully certified end-to-end GDP compliant transport solution, and it was a game changer."
The new developments expand on DHL's existing solutions. According to Blok, the latest upgrades to LifeTrack, a dedicated tracking portal designed for life science sector shipments, streamline the user interface and consolidate access to near real-time data analytics, digitized SOP information and a new Lane Risk Assessment tool.
"The uncertainty in recent times urged us to roll out innovative solutions that seek to change the marketplace," Blok noted.
"Our upgraded suite of temperature-controlled ocean logistics are ideal for businesses looking for a smooth air to ocean conversion (usually for less time sensitive shipments) and a data-driven approach to make agile and adaptive contingencies, especially in light of the capacity challenges we have seen this year."