Dubai's recipe for becoming a food oasis in the desert
Despite its reliance on food imports, Dubai has leveraged its strong foundation in trade and logistics to become a leading culinary destination in the Middle East.
Despite its reliance on food imports, Dubai has leveraged its strong foundation in trade and logistics to become a leading culinary destination in the Middle East.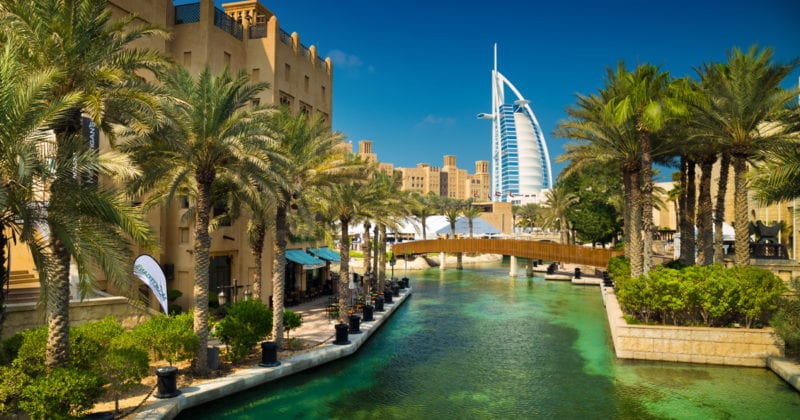 At celebrity chef Nobu Matsuhisa's namesake restaurant, diners expect nothing less than an exquisite culinary experience.
Set in a chic contemporary space framed by its signature wicker panels, Nobu serves up a menu paying homage to traditional Japanese cuisine coupled with imaginative touches of the Andes.
The restaurant is among the many fine dining establishments, helmed by Michelin-starred chefs, that have sprouted in Dubai.
The most expensive dish on its menu is the premium wagyu beef — a 150g steak costs 869 dirhams (€208). Renowned for its rich texture and its high degree of marbling, the prized cut only garnered modest attention when it first arrived in the thriving Dubai restaurant scene more than a decade ago.
But it has since regained interest after stealing the show at the world's largest food and beverage trade exhibition in recent years.
Strategic location
A city nestled in the United Arab Emirates (UAE), Dubai continuously excites and entices its 3.1 million-strong population with the finest gourmet delicacies from around the world.
With at least two restaurants opening daily in the emirate, Dubai has been patiently honing its reputation as an emerging culinary destination with a vibrant food scene.
No stranger to outlandish food fads, the coastal city has made headlines for extravagant offerings such as saffron-topped Italian truffle ice cream, pizza topped with beluga caviar and foie gras, and five-stacked wagyu burgers covered in edible gold.
Though the Michelin guide has yet to debut in Dubai, award-winning chefs and restaurateurs, including the likes of Gordon Ramsay and Gary Rhodes, have set up shop in the city often billed as the playground for the rich and famous.
For all its wealth, the UAE's lack of renewable resources, other than oil and gas, means much of its economy is still driven by imports. Imports into Dubai, valued at 190 billion dirhams in the first quarter of 2019, are not only key to the city's global trade, but also serve as the main ingredient to its flourishing dining scene.
To plug this gap, the UAE has invested heavily in Dubai's infrastructure over the years to build its capabilities as both a regional and global logistics hub. The city, strategically located between the East and the West, is now supported by the world-class Jebel Ali port, Dubai International Airport, and a comprehensive rail and road network.
As part of the Dubai 2021 plan, the emirate has set its target of becoming one of the top five logistics centers in the world.
And things have been panning out well so far. The UAE was ranked 11th out of 190 economies in World Bank's latest Ease of Doing Business index, while the Jebel Ali port in Dubai ranked ninth in a 2018 global ranking for container ports.
A culinary haven
According to Alauddin Raja, Trade Lane Manager, Sales and Marketing, at DHL Global Forwarding UAE, only 5 percent of the company's current air freight imports are perishables, but a 5 to 7 percent growth is expected for the segment this year. A promising figure considering Dubai has witnessed little to no trade growth in six years.
With the import of niche food products like wagyu beef — mainly from Japan, Australia, and US, a high degree of coordination is required from origin to destination, such as for the scheduling of flights and temperature control settings to ensure the freshness of the perishables.
Support from DHL Global Forwarding Australia, which handles close to 50 percent of Australia's export air freight for perishables, has proven helpful in guiding the team to build its expertise, Alauddin shared.
"We have gradually implemented measures to better cater to the needs of the perishables business, such as by establishing a special 24/7 desk for air freight shipments, and holding quarterly discussions with ground handling agents on expediting the import of perishables," he added.
Demand will likely continue to grow as an estimated 2,000 millionaires settled in the UAE last year — more than 1,000 of them in Dubai, which on its own welcomed 16 million tourists in the same year.
Often talked about for its glitz and glamor, Dubai will be playing host to world-class events such as Gulfood, the world's largest annual food and beverage exhibition and conference, and the mega six-month World Expo in 2020.
In the lead-up, a string of new dining hotspots are expected to make their highly anticipated debuts in the city, just in time to welcome diners to the culinary haven.
With all eyes on Dubai next year, the city must serve up only its best to charm and impress the influx of potential investors and visitors.