Australia's e-commerce companies are getting a boost with warehouse automation
An increased volume in online shopping has accelerated the need to enhance the supply chain process with efficient automation.
An increased volume in online shopping has accelerated the need to enhance the supply chain process with efficient automation.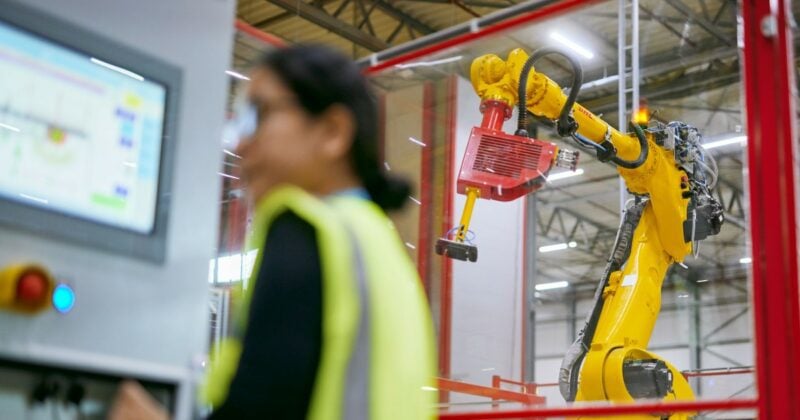 A hallmark of the complex new normal evolving globally in the wake of the pandemic is a dramatic increase in e-commerce volumes. Australia is no exception.
Research is showing that due to social distancing, border closures and lockdowns, e-commerce spending in Australia reached USD 49 billion (EUR 49 billion) in 2021 – up from USD 38 billion in 2020. Around three-quarters of Australian businesses now earn part of their revenue from online sales. Online commerce accounts for 10 percent of Australia's total retail trade.
For many B2C companies in Australia, this shift is highlighting the need for more efficient warehouse operations. Speeding up processing times for online deliveries is becoming vital in the race to win customers: according to PwC, 17 percent of online shoppers will abandon a brand if they face a long delivery wait.
In response, more Australian companies are embracing new digital technologies, automation, and robotics solutions in their warehouses to help them slash delivery times and offer customers faster, more flexible delivery options.
But how do such technologies work? How are they helping companies boost productivity and can they reduce the risk of warehouses acting as potential bottlenecks in an increasingly competitive e-commerce environment?
Automating to meet growing customer demand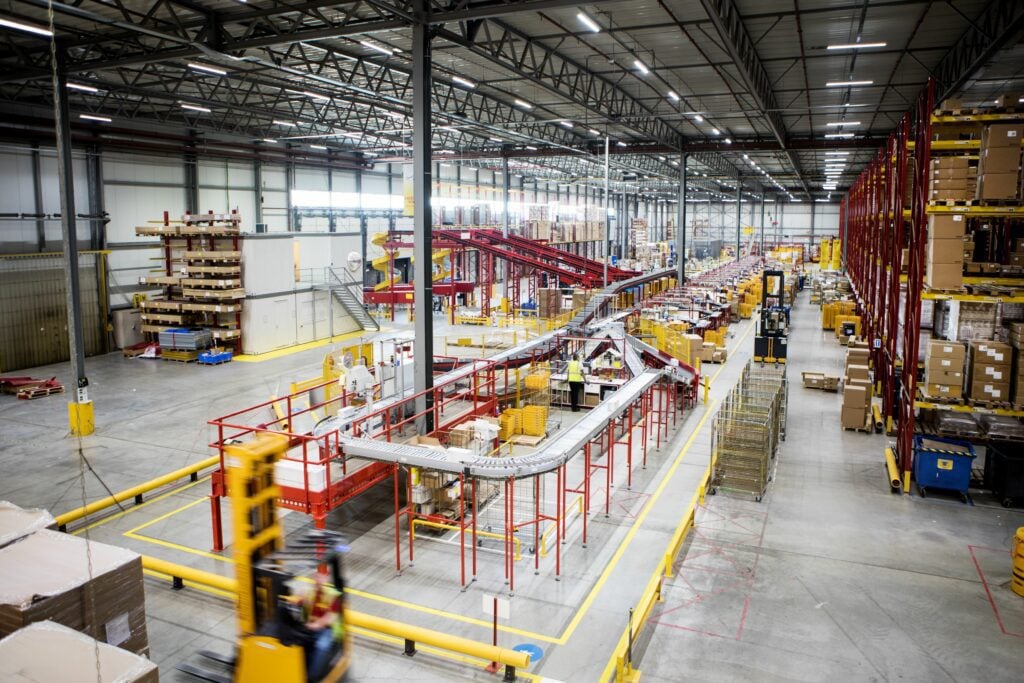 Online shoppers set in motion a complex supply chain when they click the 'buy' button on a website. For the e-tailer's warehouse or distribution center, this includes the labor-intensive picking process – that is, locating a specific item in what can be a vast space filled with hundreds of thousands of products.
Further steps involve getting an item ready for shipment. This might include packaging, sorting orders into put wall systems, and placing objects onto conveyor belts.
Efficient location mapping to identify and name all product shelving positions, work areas, and travel paths within a warehouse is key to ensuring the site can function optimally, as are systems to put away items in the right spot.
While wearable devices can help managers keep track of staff movements around a site, the human labor involved in all these steps can be time-consuming and even physically challenging. By contrast, a smart warehouse that uses intelligent software and advanced robot technology can automate many processes, saving time and reducing human error.
This can also directly benefit the bottom line: research shows that automation can increase revenue per square foot of logistics space by between 10 and 20 percent for e-commerce operations.
Gaining competitive advantage with the right distribution partner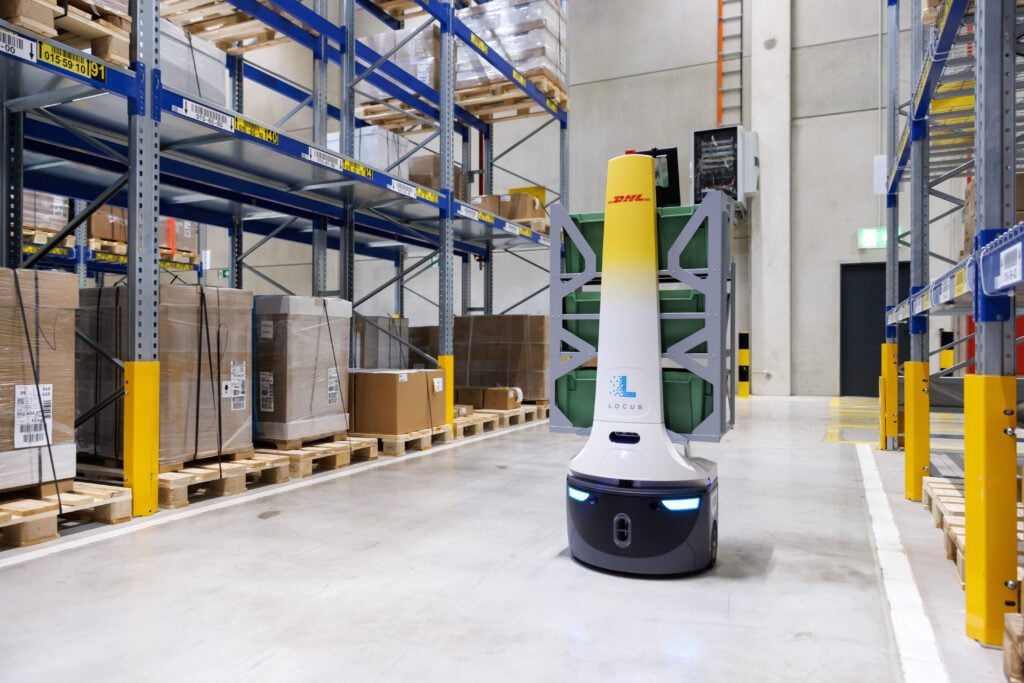 As Australia's rapidly growing e-commerce market shows no sign of slowing down, DHL Supply Chain is investing AUD 150m over the next two years on automation and robotics at its Australian warehouses. This includes commissioning 1,000 new assisted picking robots by 2025.
"For Australian e-commerce retailers, transformation is necessary for survival at this point," said Terry Ryan, CEO, DHL Supply Chain Asia Pacific. "Gaining competitive advantage means harnessing the warehousing fulfilment expertise that can allow them to offer faster delivery to their B2C customers, along with improved operational efficiency. That's where DHL comes in. Our new solution is designed to combine robotic efficiency with human ingenuity as it helps companies accelerate their responses to changing customer demand."
How automation improves warehouse productivity
Australia's logistics sector has been deploying solutions such as automated guided vehicles for decades. But in the last few years, innovations in autonomous driving technologies as well as new flexible picking and manipulation systems are transforming what robotics and automation can deliver in both indoor and outdoor environments.
Robotic systems are becoming easier to deploy, powered by machine learning and powerful sensors that allow them to adapt rapidly to changing environments and work safely alongside logistics teams.
Take autonomous mobile robots (AMRs), for example. Once a human worker at a pick station confirms their pick on a computer screen, these small, nimble robots retrieve the item from a mobile shelf and deliver it to the station. Enabled by geo-navigation technology, the AMRs calculate optimal navigation routes as they shuttle picking carts through warehouse aisles, taking much less time than a human picker would need to walk around the space.
AMRs are also being widely deployed to help staff clean facility floors, conduct inventory counts, and carry out property mapping and surveilling.
The aim behind deploying AMRs is to enhance and provide new opportunities for the existing labor force in logistics. DHL Supply Chain, for one, is looking at more than just investing in robotics.
"These solutions will also significantly reduce our employees' time on routine or physically demanding tasks, including heavy lifting. Such solutions allow them to have the opportunity to develop the skills to advance their careers, and work on meaningful and interesting projects," said Steve Thompsett, Chief Executive Officer, Australia & New Zealand, DHL Supply Chain. To complement the technology upgrade, the company is also growing its Australian workforce over the next two years, on top of retraining and development opportunities to existing employees.
Joining the race to stay competitive
Already, leading online retailers in Australia are taking advantage of these innovations. Online bookseller Booktopia, for example, is aiming to increase stock by 25 percent and cut delivery times following an AUD 4.5 million investment in robotics that went live at the end of 2021.
According to a report in the Australian Financial Review, Booktopia co-founder and chief executive Tony Nash said the robotic 'shelf stackers', which stack books onto 4-meter-high shelves, would enable the e-tailer to increase the stock in its Lidcombe warehouse in Sydney by 200,000 to 1 million books.
Other enterprises are adopting automation technologies wholesale as they build new facilities, rather than introducing them piecemeal. Take e-tailer Kogan.com, for example, which currently has 15 third party–operated warehouses. The company is reported to be seeking a site on which to build its own automated facility, augmenting its existing distribution footprint.
Major supermarket chain Woolworths, meanwhile, has announced plans to build two new automated warehouses at Moorebank Logistics Park in Western Sydney, both projected to open in 2024. The centers will deploy robotic pickers and build tailored pallets for specific aisles in individual stores, helping to speed up restocking.
Coles is also developing two data-driven fulfillment centers in Melbourne and Sydney, scheduled to open later in 2022. The company plans to use software developed by Ocado, a UK supermarket chain that has no stores, only warehouses.
As more companies follow suit, it's no surprise that demand for mobile robot technology is predicted to grow: some experts are forecasting that globally, one million mobile robots for warehouse automation may be required each year by 2026.
"Of course, it's not only large organizations that can benefit from the game-changing flexibility, speed, and performance of goods-to-person automation," pointed out Ryan. "Small to medium sized enterprises also have a great opportunity to steal a march on larger retailers that may have committed to inflexible fixed-automated systems."
Leading the way in smart warehousing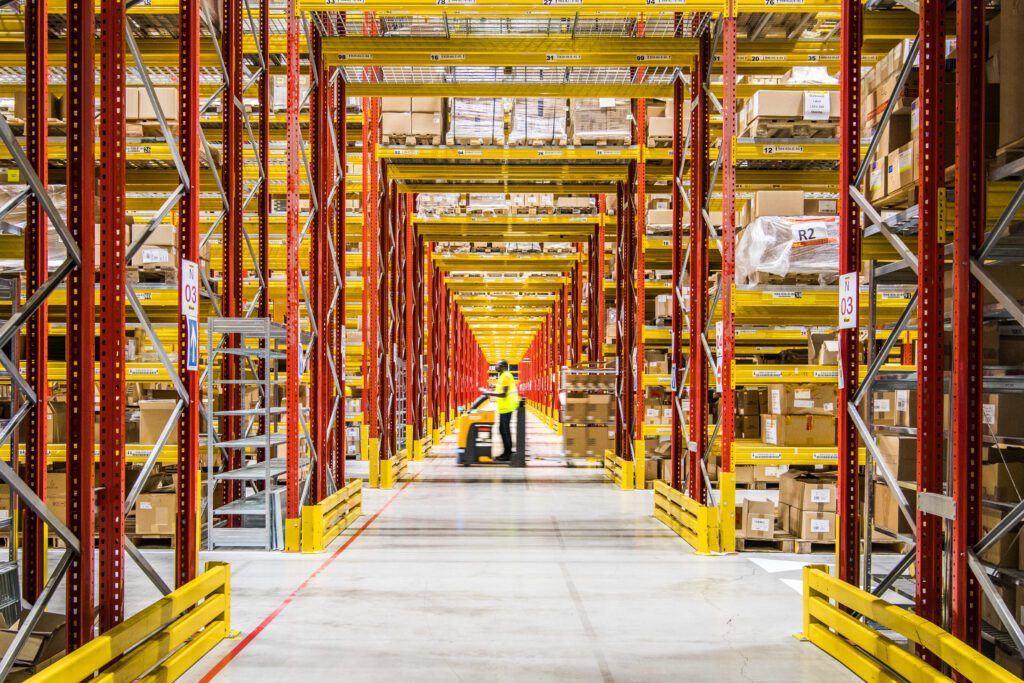 But what does all this look like in practice? At DHL, nowhere are the benefits of automation and robotics on more prominent display than at its smart warehouse in Beringe, The Netherlands.
Encompassing 128,000 square meters of floor space and 100 loading docks, the Beringe warehouse is a hub for up to 250 inbound and outbound trucks every day. But where operations here become truly 'smart' is when the machinery comes to life.
For example, AMRs work alongside human staff to improve existing processes or create new ones. As the AMRs help to perform picking tasks and transport the goods away, people can spend less time on their feet moving around the warehouse.
At the same time, the warehouse is equipped with robot picking cells, where stationary robots handle picking tasks using machine vision technology. Each of these robots can recognize packages of all shapes and sizes, picking 600 items per hour, 24 hours per day. Wireless tracking technology is also to help optimize the movement of equipment and people through the warehouse.
"In the long run, the automated processes we are putting in place for our Australia warehouses, accompanied by training and certification opportunities for our employees, can help them focus on doing more sophisticated warehouse tasks best left to humans," said Ryan.