MORE FROM THIS COLLECTION

Air freight demand robust amid market recovery, but capacity shortages persist
As economic activity expands across key markets, air freight rates remain high due to an imbalance between demand and capacity.
As economic activity expands across key markets, air freight rates remain high due to an imbalance between demand and capacity.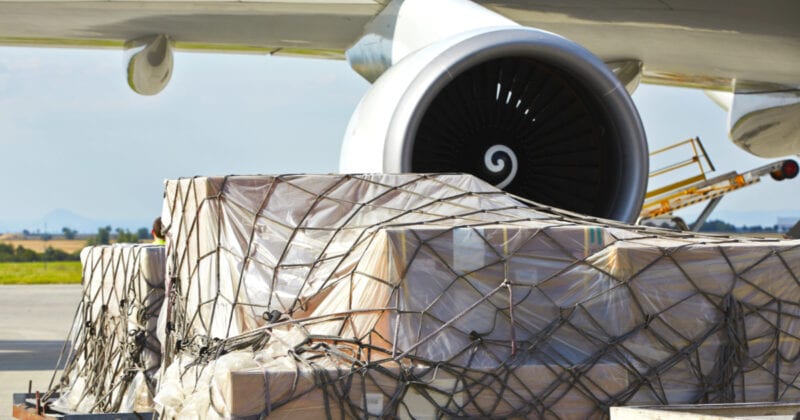 Air cargo shipment and freighter charter rates have reached stratospheric levels over the past year due to Covid-19 travel restrictions. Large swathes of the global passenger fleet were grounded, creating a capacity black hole.
With demand strong and ocean shipping suffering supply chain logjams and steep price increases, air freight costs have remained elevated. Based on the current supply-demand balance for air cargo, there is little indication that this will change any time soon.
The latest data from the International Air Transport Association (IATA) revealed that global capacity, measured in available cargo ton-kilometers, rose nearly 6 percent month-on-month in March.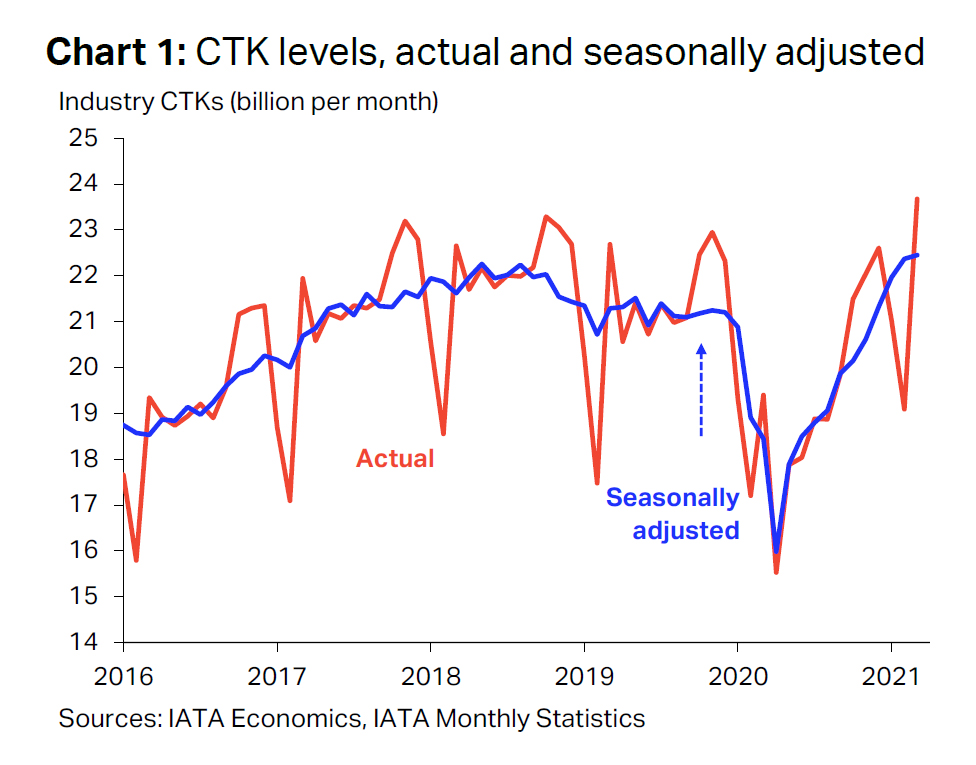 Still, overall capacity remained some 30 percent below pre-Covid-19 levels, according to shipping consultancy Seabury, despite carriers introducing impressive numbers of passenger planes operating as freighters.
While global uplift capacity is currently underpowered, demand remains robust. According to DHL's latest Airfreight State of the Industry update, volumes are continuing to grow very strongly with automotive, high-tech and e-commerce shipments leading the surge.
The recovery in demand is not restricted to just a few sectors — the breadth of this rise is spread across all commodities. For instance, there has been a dramatic increase in laptop movements while, on the other hand, perishable movements such as flower imports in May performed strongly due to the Mother's Day season.
"This demand strength is being given added impetus by the disarray of ocean supply chains, which has left many manufacturers and retailers facing critical shortages and with few options others than flying in supplies," said Thomas Mack, Global Head, Air Freight, DHL Global Forwarding.
As the conversion from ocean to air freight gathers pace among supply chains, a further tightening of air cargo capacity in Asia is expected. "The shipping squeeze has rebounded into the air freight industry, which has led to a scramble to charter extra planes. The capacity crunch for air freight also comes at a time when several carriers are already facing issues with mandatory crew quarantine measures that have taken more flights out of circulation," added Kelvin Leung, CEO, DHL Global Forwarding Asia Pacific.
Recovery in regional markets
As with the demand in air freight, economic indicators from key markets also point toward a sustained period of heightened demand.
Japanese investment bank Nomura's leading index of Asia's (ex-Japan) aggregate exports — made up of eight forward-looking components and has a three-month lead — has risen strongly for three consecutive months. The reading for June was the highest since May 2011, signaling a robust Asian export momentum ahead with forecasted growth of around 20 percent year-on-year in the coming months.
Meanwhile in Europe and the U.S., latest data also indicates that vigorous recoveries built on vaccines rollouts will see economic activity expand.
For instance, even though U.S. container and air freight supply chains have been operating at full pelt since last summer, the U.S. Census Bureau reported in May that inventories have been declining — suggesting that cargo arriving in the U.S. is being sold and delivered almost as soon as it arrives.
According to the Bureau, the Inventory-to-Sales ratio for all businesses fell to a record low in March. Retail was a key driver of the decline with the sector seeing its Inventory-to-Sales ratio drop to a value of just 1.10 in March. By comparison, the ratio had hovered between 1.44 and 1.50 in the period from 2015 until the outbreak of Covid-19 early last year.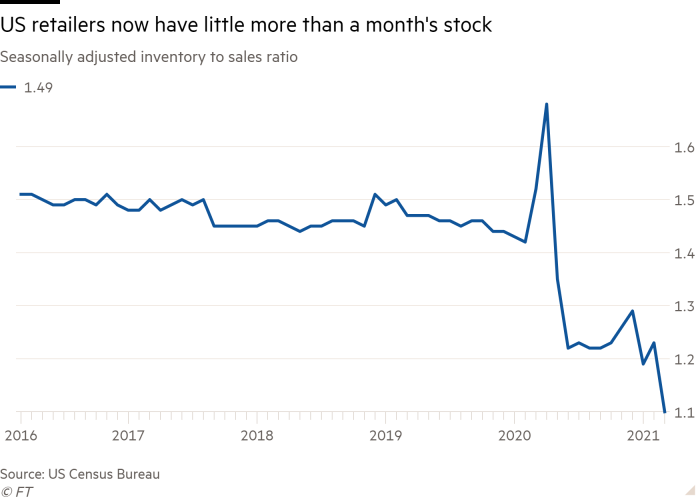 Research firm IHS Markit's Flash Eurozone Purchasing Managers' Index (PMI) meanwhile accelerated in May, with new order inflows surging at a rate not seen for almost 15 years as key economies began removing Covid-19 restrictions.
By sector, the upturn continued to be led by manufacturing, where output grew for an eleventh straight month with the rate of expansion easing only modestly from March's all-time high.
The inability of factories to produce sufficient output to meet orders was in part due to "a new record lengthening of input delivery times as supply chains continued to deteriorate", according to IHS Markit.
Capacity shortages could worsen with demand growth
Demand into Europe continues to be strong. The latest Baltic Air Freight Index report mentioned that prices on the Europe-bound air freight trade lanes rose by approximately 7 percent from Shanghai (PVG) to Europe and 14 percent from Hong Kong (HKG) to Europe from March to April 2021.
Such jumps would be significant in normal times, but they appear relatively bearish when compared to North America-bound lanes from PVG and HKG, noted Bruce Chan, vice president and senior research analyst, Global Logistics and Future Mobility, at U.S.-based investment bank and financial services company, Stifel. Those two lanes saw rates surges of 39 percent and 32 percent, respectively, in April compared to March.
Chan believes the 30 percent year-on-year increase in U.S. personal income, not least due to government transfer and stimulus policies, is the key to the spike in rates.
"The growth in personal income levels has been fueling significant demand for retail goods — on top of already historically-low inventory levels — particularly among air freight-heavy categories like e-commerce fulfillment, luxury goods, and high technology," said Chan.
If demand growth and price inflation continue on North American lanes, capacity providers may allocate more lift to the North American market — a move that would exacerbate existing capacity shortages in other markets.
This summer is also unlikely to see any major increase in bellyhold options to help ease the strain on capacity. "This lack of bandwidth capacity-wise is being exacerbated by the fact there is no summer schedule based on passenger demand, which is contributing to the high rates being reported in the market," said Niall van de Wouw, Managing Director of air freight industry data analyst firm CLIVE Data Services.
This persistent imbalance between high demand and insufficient capacity is the main reason why air cargo freight rates are expected to remain high in the foreseeable future, added Sudeep Tandon, Vice President, Airfreight Product Development, DHL Global Forwarding.