MORE FROM THIS COLLECTION

'Not much was left': smartAID goodwill ambassador on Hurricane Dorian damage
Being an experienced disaster relief volunteer did little to prepare Alethea Gold for Hurricane Dorian's devastation in the Bahamas.
Being an experienced disaster relief volunteer did little to prepare Alethea Gold for Hurricane Dorian's devastation in the Bahamas.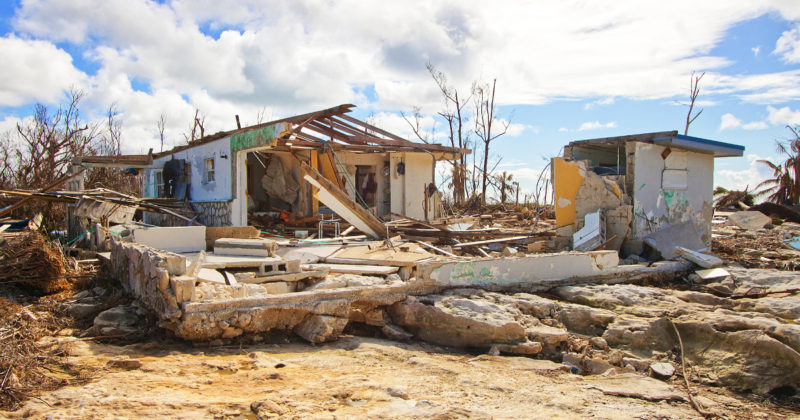 The unbearable smell hit her before she even caught sight of the human remains. Close to 10 days had passed since Hurricane Dorian ravaged the Bahamas.
Under the harsh afternoon sunlight, tears welled up in her eyes as Alethea Gold tried to compose herself after witnessing the dire situation.
Time to grapple with her emotions was something Gold could not afford at the time.
The Global Goodwill Ambassador of international aid organization smartAID was with her team coordinating relief aid on Abaco Island, the worst-hit island in the Bahamas, where many locals were still reeling from the disaster's aftermath.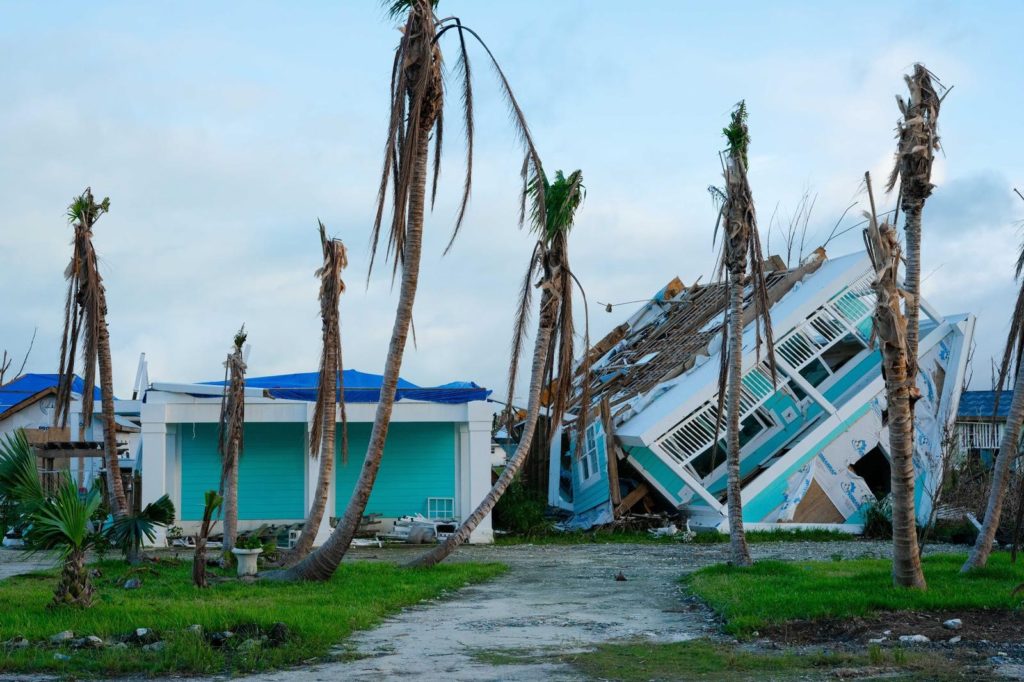 The Category-5 storm — the strongest to ever hit the region — had just left behind a trail of destruction in its path. Roofs were forcefully ripped off houses, boats wound up on top of cars, and even tree roots were hauled out of the ground.
Race against time
After every major disaster, the immediate concerns are necessities including water, food, hygiene, shelter, and access to communications to connect with their loved ones.
"The island of Abaco was almost completely wiped out. Not much was left. Most of the people have been airlifted to either Nassau or Grand Bahama island and placed in temporary shelters," said Gold.
The "shelters" were, in fact, gymnasiums and churches, which had to be urgently converted to accommodate the throngs of hurricane victims.
At that critical moment, smartAID's most urgent mission was to "evaluate and identify the exact needs on the ground by coordinating with local aid partners and government authorities", shared Gold.
Amid the chaos, her team on the ground rushed to identify the affected areas and ensure that the remote communities, especially those living on farms with no access to clean water, could be reached as quickly as possible to render much-needed aid.
But the experienced disaster management professionals were not the only ones scrambling to help.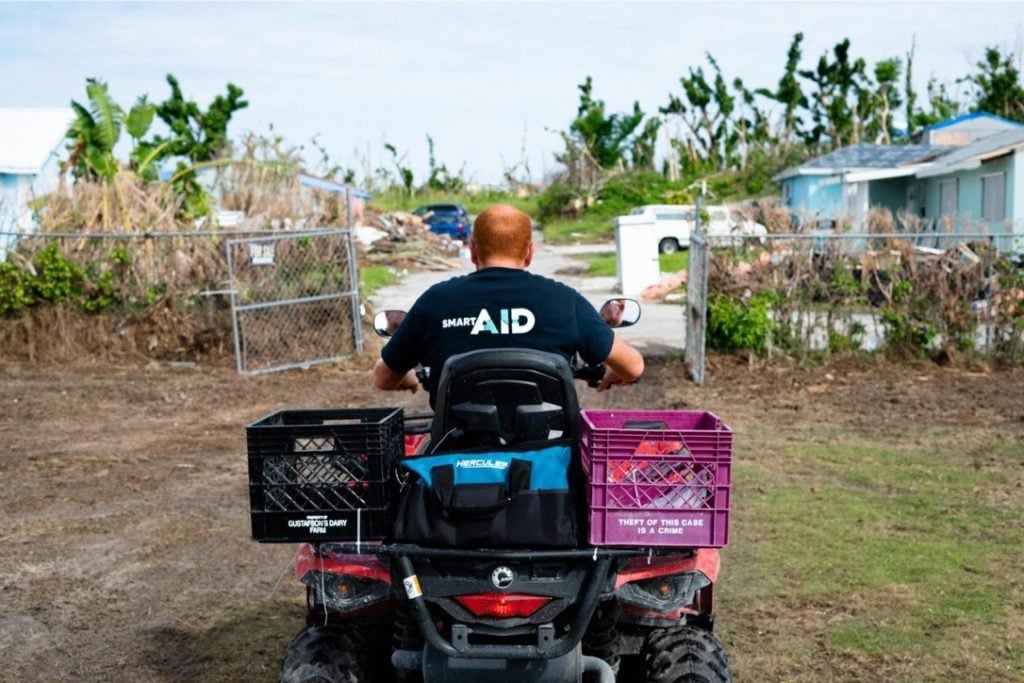 The moment they identified the critical needs, the aid organization turned to its vast network of partners around the world, among which include providers of solar power, clean water and telecommunications, to consolidate and donate aid relief items.
Thankfully, they stepped up to the plate.
Clean drinking water, for one, is a scarce resource after a disaster when the threat of water-borne diseases is at its peak. One of smartAID's partners in China, SOLIGHT, donated small water purifier units trusted for its effectiveness and durability.
Lighting is also sorely needed in a post-disaster environment. "The lights help to make the disaster victims feel safe and protected in their environment at night," explained Gold.
Since electricity supply was completely cut off due to the damage from the hurricane, the entire Abaco island plunged into darkness at night, save for a few solar-powered lights from smartAID's partner Little Sun that came in handy.
The German solar energy equipment supplier subsequently contributed another 4,000 solar lights to facilitate smartAID's aid relief efforts.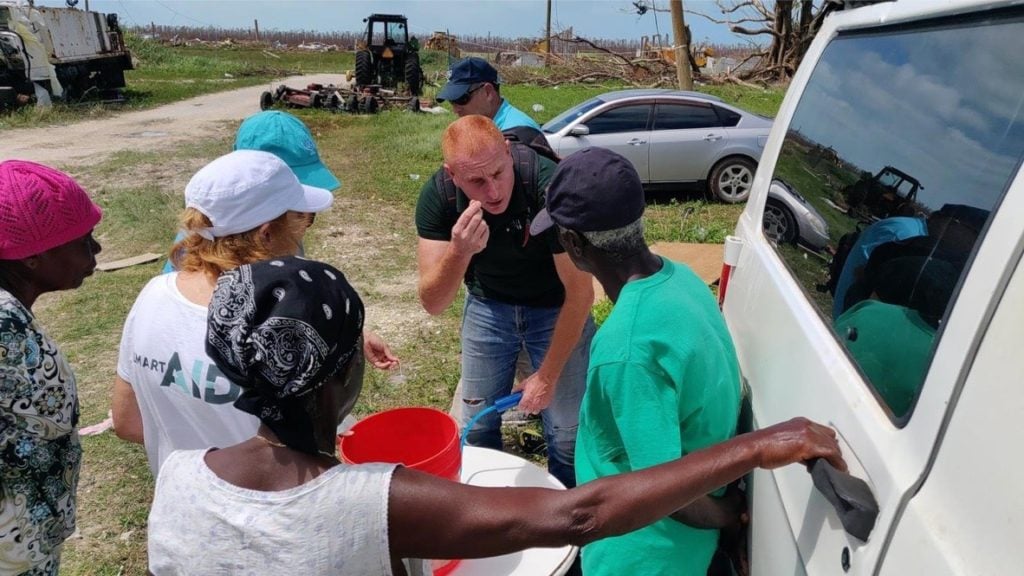 Closer to the ground, smartAID's local partners in the Bahamas also played their part, raising the need for hygiene kits for women and young girls displaced from their homes.
Though not part of their usual recovery efforts, the smartAID team still went out of the way to seek help.
"Our smartAID team in San Diego reached out to local businesses, schools, synagogues and churches. In three days, we were able to organize over a thousand hygiene kits which included sanitary pads, wipes, toothbrushes, toothpaste, soaps and shampoos," Gold added.
A complicated emergency
As the list of aid relief items grew, it soon became apparent that they had a larger problem on their hands: the logistics of getting the goods into the Bahamas from multiple destinations before distribution to the affected areas.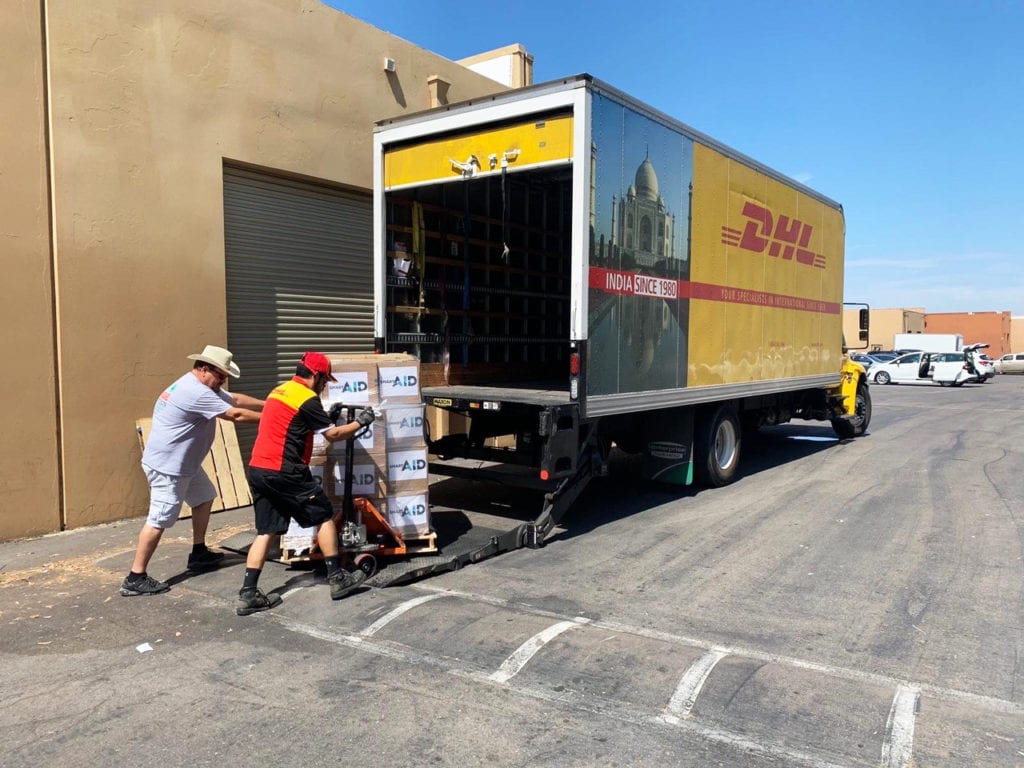 The logistics involved made it a slightly more complicated emergency compared to past disasters, according to Gold. "We had a variety of different goods coming from different countries that were all urgently needed," she said.
"There was a lot of coordination and consolidation of information between multiple communication channels," shared Foo Yong Wei, Vice President, APEC Service Quality & QCC, DHL Express, who facilitated the delivery.
Within less than a week of smartAID's request, Foo worked closely with DHL Express' operational heads in various countries to organize the pick-up and shipping of the aid relief goods — water purifiers from China, solar lights from Germany, and hygiene kits from San Diego and Miami in the U.S. — for delivery to Nassau, Bahamas.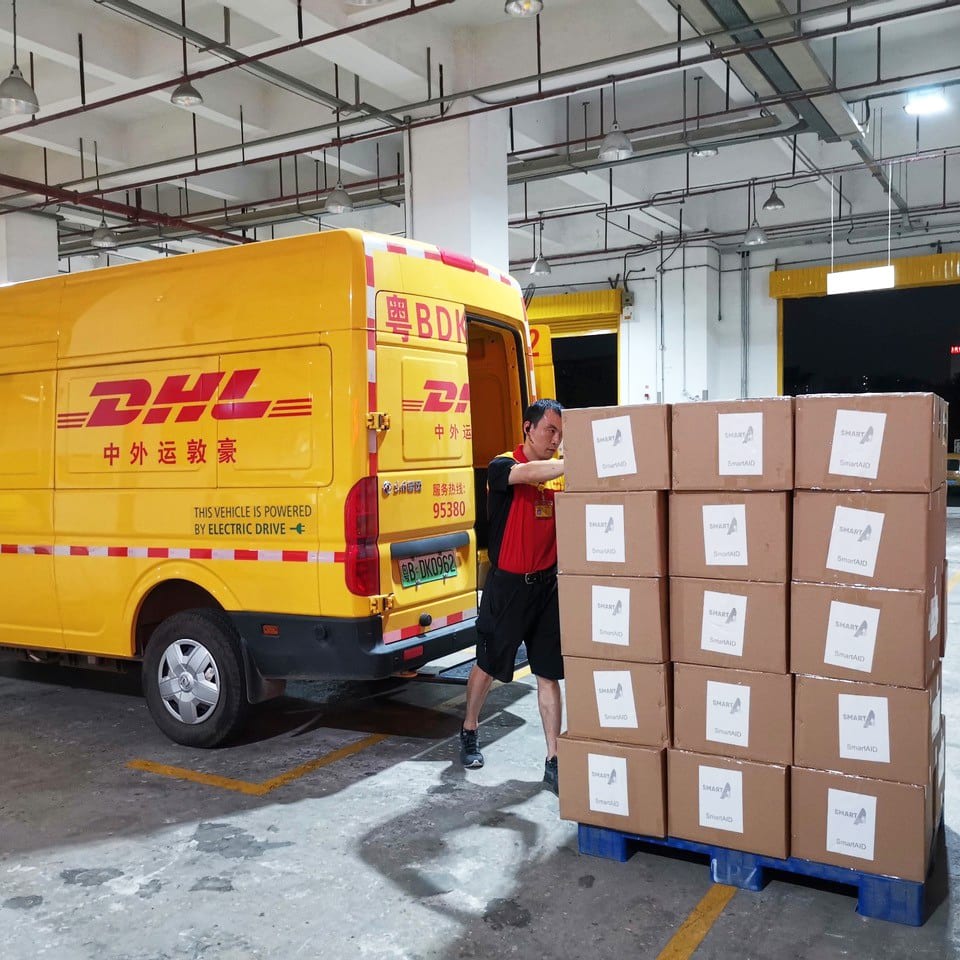 Unforeseen challenges, including issues with tax exemption and the rechargeable batteries of the solar lights, threatened to scupper the shipment, though the items eventually found its way to smartAID's team in the Bahamas.
"Because of DHL's experience with our Disaster Response Team deployments, we understood the urgency and the necessary steps to respond promptly to the critical humanitarian situation in the Bahamas," said Sean Wall, Executive Vice President, Network Operations and Aviation, DHL Express Asia Pacific.
smartAID had previously partnered with DHL to deliver relief aid to hurricane victims in Puerto Rico and the Yazidis in Iraq's conflict-ridden zone. Time and again, DHL has successfully delivered goods to affected areas even while other organizations struggle to get their aid in, shared Gold.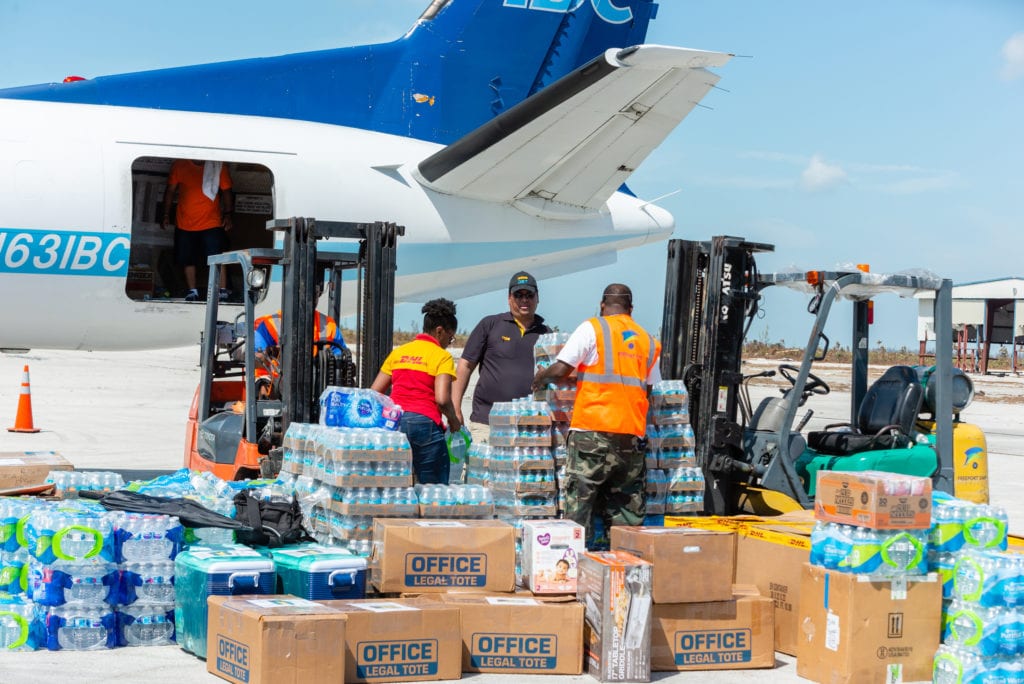 At the Nassau airport, supplies were quickly dispatched to international aid organizations under the supervision of Deutsche Post DHL Group's Disaster Response Team (DRT), which had a decisive impact on logistics operations during its deployment.
"DHL helped clear the goods, and it wasn't easy due to the size of the catastrophe which overwhelmed local customs and government officials," Gold added.
Throughout the two-week deployment period, the two teams of six volunteers each processed close to 200 tons of cargo on the island.
"It was a challenging environment to be in, but our focus from the start was to ensure all essential aid supplies were swiftly redistributed to prevent bottlenecks at the airport," said Frank Losada, Regional Customer Manager at DHL Express USA, who led the second wave of the DRT deployment.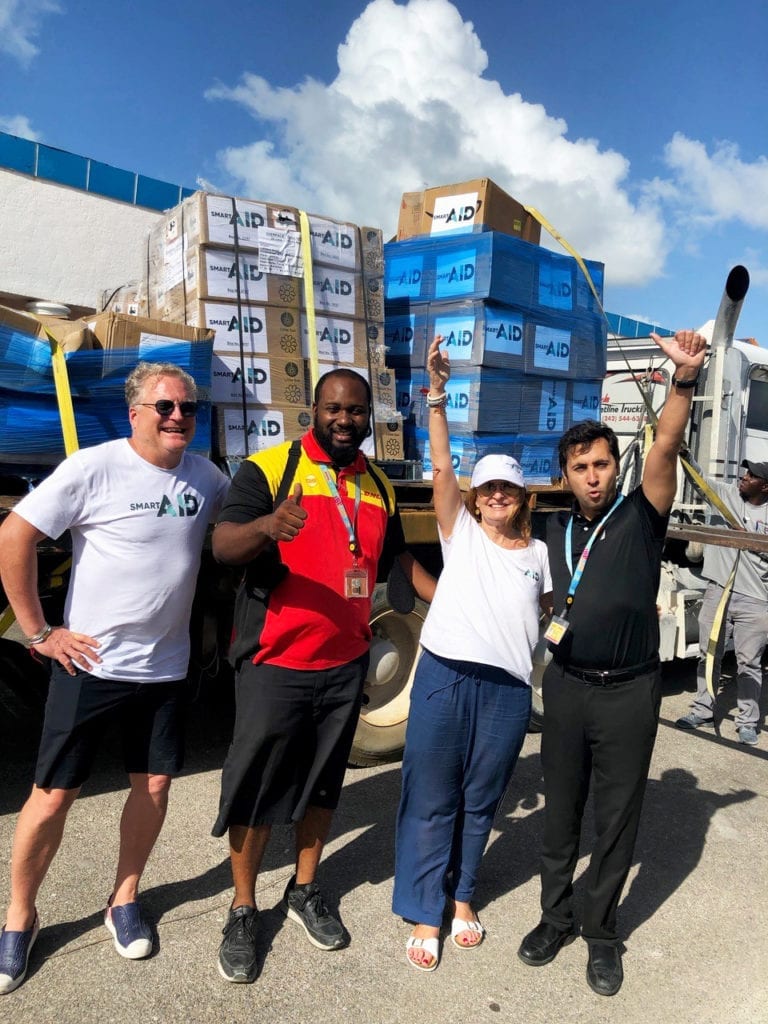 Despite the tough conditions, Gold is adamant that their work cannot stop now as the Bahamas embarks on an arduous journey to recovery.
"We are planning to go back to do another mission. We're in discussion at the moment assessing what the people need most and how we can help them."
Update: smartAID builds new service humanitarian hub on Abaco Island
Together with its local partner, smartAID built a new hub — capable of hosting 50 people at a time — to serve as the focal point of relief distribution across Abaco Island. The hub will function as a coordination and support center for all foreign and local aid groups helping refugee families that are still living in temporary shelters.
The smartAID hub will also provide ongoing relief items, telecommunications services, WiFi connection, and personal facilities to address the needs of all the aid groups and workers operating on the affected island.