More than skin-deep: How Antipodes is leading the sustainability charge
With the world just recognizing the dire need for climate-friendly solutions, Antipodes is a rare trendsetter in sustainability.
With the world just recognizing the dire need for climate-friendly solutions, Antipodes is a rare trendsetter in sustainability.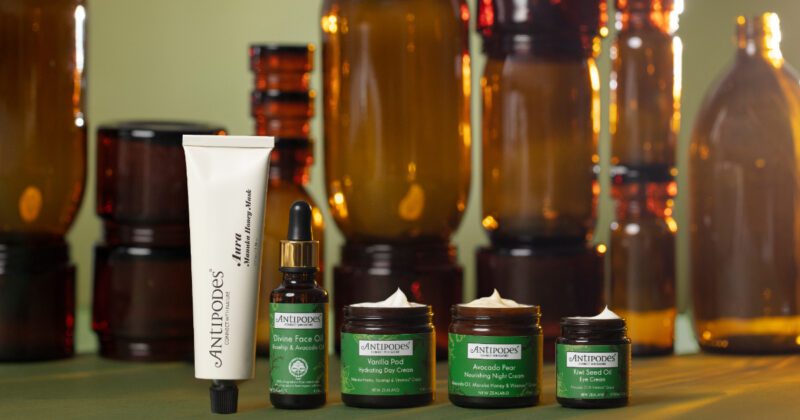 Open a bottle of skincare serum, and chances are, you might see a small dropper, made out of glass and rubber, that you squeeze to release precious droplets of the liquid.
For most of us, the dropper is inconsequential. But for New Zealand skincare brand Antipodes, sustainability is at the heart of everything it does, so the dropper represents a challenge, as technology has not caught up to find a viable recycling solution for these materials.
View this post on Instagram
This, however, does not diminish the fact that Antipodes has achieved much in the area of sustainability since it launched 17 years ago. For one, the company utilizes packages that rely on vegetables inks and FSC-certified cardboard.
It's just one example of how the skincare brand is serious about its call to reduce the impact on the environment.
Answering the sustainability challenge
Founded in 2006, the company's history is rooted in sustainability and natural products from New Zealand. It showcases New Zealand's native flora and ingredients, such as its world famous manuka honey, avocado oil and Marlborough grapes from sustainable vineyards.
"We wanted to create a skincare brand that harnessed the best ingredients from pollution-free New Zealand nature to create formulations that were effective and scientifically proven," said Elizabeth Barbalich, founder and CEO, Antipodes.
View this post on Instagram
This principled approach garnered a loyal, international fanbase for Antipodes, which planted roots in over 30 countries. Publications such as Vogue and Harper's Bazaar have regularly featured them, with celebrities such as Billie Eilish and Katie Holmes endorsing them. More importantly, they did all this and managed to stay true to their sustainability ethos.
The idea of sustainability in the beauty and skincare industry is not new. Today, most companies are extolling the virtues of sustainability, leading to the challenge of greenwashing.
Research firm Outform highlighted that consumers have become more focused on sustainability matters. Phrases such as "eco-friendliness" and "sustainability" increased by 25 percent in beauty-specific posts.
Between 2018 to 2019, there was a 100 percent increase in hashtag mentions, such as "#wastefulpackaging" and keyword phrases like "too much packaging". Packaging of products is a major problem for many companies, including Antipodes, looking to reduce the impact on the environment, with the use of plastic, glass and rubber common.
Cutting no corners for sustainability
To this end, the company has focused on innovative new sustainable materials to replace one-use materials.
"Sustainability is fundamental to our brand, and we have some ambitious goals for 2022 and beyond – which means partnering with companies who share our ethos," said Barbalich.
Working with local partners is essential for Antipodes, which prides itself as a skincare brand with New Zealand in its DNA. This has also led them to local packaging partners that allowed them to be early adopters of innovative and sustainable packaging solutions, such as a single sheet of card that does not require glue.
Going beyond New Zealand, however, requires a partner that is aligned with Antipodes' sustainability values, along with a trusted and global network. This became one of the key considerations for Antipodes to work with DHL, which has committed 7 billion euros to reduce its CO2 emissions.
"With their impressive goal of net zero emissions by 2050, it was a natural choice to align with DHL," added Barbalich.
But the reality is that keeping products natural and environmentally friendly demands a great deal of resources. Antipodes' approach towards product development with sustainability in mind is rooted in science. The company employs a stringent process to develop and test their products – which can take between 18 months to three years.
The use of New Zealand ingredients such as manuka honey and mamaku black fern is not just for branding purposes. The company extracts, tests and trials compounds from the natural ingredients rigorously in laboratories to ensure world-leading efficacy before the product is released to the market.
View this post on Instagram
The attention to details goes beyond the product. For its containers' tamper seal, Antipodes chose to use biodegradable wood pulp. At the same time, their products are contained in either glass or aluminum. This allows their customer to reuse the bottle or jar at home, extending the life of the product even further.
"What's just fantastic about them is that the product is fully recyclable and endlessly reusable. You can remold glass infinitely. From our perspective, when you're finished with your glass jar and your aluminum tube, you can just pop them in your household recycling," said Barbalich.
Leveling up – during Covid-19 – with digitalization
The New Zealand skincare brand is employing the same research-based approach to tackling the impact of Covid-19 on their business.
Before the pandemic, Antipodes was very much reliant on physical retail presence, partly because the cosmetic industry has always been about the hands-on experience.
But the arrival of the virus completely upended the company's business model. With lockdowns imposed across New Zealand and Australia, their two biggest markets and physical stores closed, sales were impacted.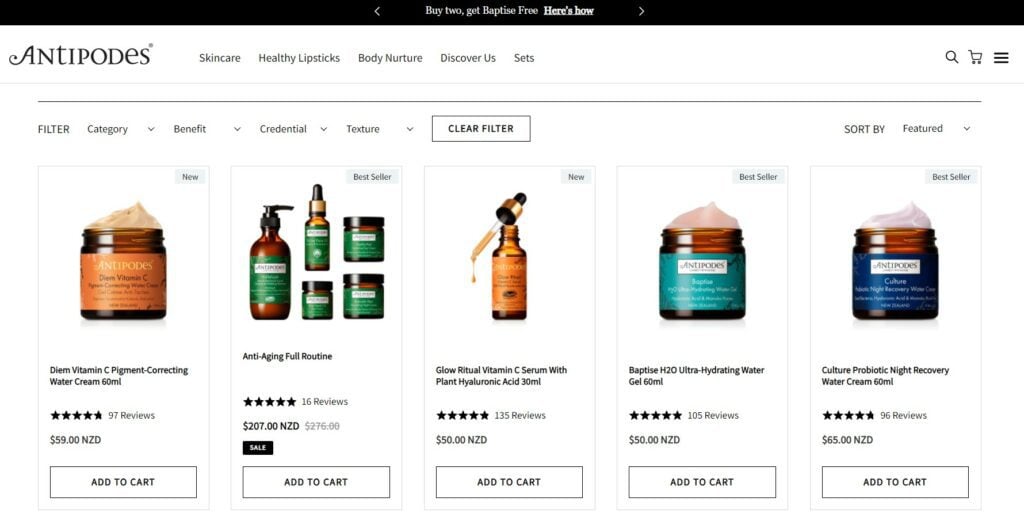 The only alternative was to switch focus online. Here, they faced the same problem: how do they replicate the need for customers to feel the products before they buy them?
The solution eventually came in a small package – many of them. Think recommended links on Amazon but in real life. Instead of bringing customers to their products at large shopping malls, Antipodes, with the help of DHL Global Forwarding, sent a little of themselves to customers all around the world.
Consumers received samples of products with an order, which allowed them to feel, smell and test the product on their faces and arms. This allowed Antipodes to cross-sell products by including samples of related products.
From pandemic worries, to a sustainable future
It worked. Sales picked up, and their e-commerce business accelerated. From between 10 to 20 orders a day, Antipodes is now dealing with up to 100 orders on a daily basis.
But at the heart of e-commerce is fulfillment, to ensure that the product is delivered on time and in good shape. "Swift delivery of custom-packed boxes is core to the success of our D2C offering and key to earning the trust of our customers who shop online with us," said Barbalich.
On this front, Antipodes turned to DHL for an immediate solution to its growing number of orders. This was achieved through an upgrade of Antipodes' website, which is able to integrate real-time data from its e-commerce platform to DHL's back-end warehousing system.
"The implementation took four weeks, and allowed us to develop an error-free process to match Antipodes' customers' requests with the warehouse inventory," said Kevin Hill, Head of Value Added Services, DHL Global Forwarding New Zealand.
In doing so, the pick-up time for ordered products was done within 24 hours. This was a marked improvement of Antipodes' initial lead time, which took between seven to 14 days. "DHL have exceeded our expectations, ensuring our devotees receive a seamless delivery experience every time. DHL's support for our D2C offering has been invaluable," said Barbalich.
Sustainability is still top-of-mind when both Antipodes and DHL work together. The skincare company also relies on DHL to ship out its B2B orders. This is fulfilled directly from DHL's warehouse, through its 100 percent-carbon neutral LCL services, at no extra cost.
View this post on Instagram
Looking ahead, the company's goal is more than just growing in existing or new markets. It is also committed to ensuring its products reach as many people as possible while minimizing the impact on the environment.
By 2023, Antipodes plans to become 100 percent plastic-free and 100 percent curbside recyclable across the world, with 100 percent sustainable ingredients. It's a tall order, but one that they are committed to.